Welcome to Mazurka Madness
Our Next Show is Sunday August 5, 2018
Then Sunday August 26, 2018
All Shows are 10:15 AM - 12:45 PM
At the Caffe Trieste at 601 Vallejo Street in North Beach in San Francisco
Musicians: Julie Smolin (violin), David Wise (bouzouki), and Bruce Zweig (piano).
(with frequent guest appearances by Gus Garelick (mandolin and violin, not pictured) and other musician friends).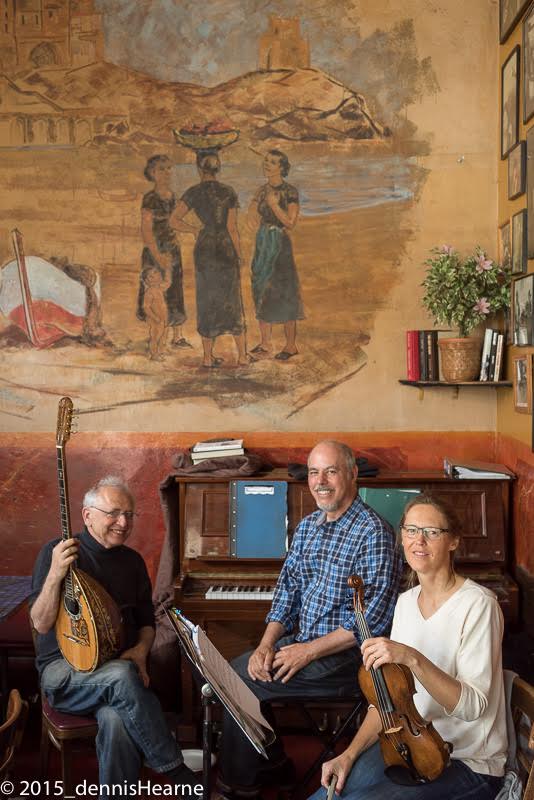 We play at the Caffe Trieste in the North Beach neighborhood of San Francisco twice a month on Sunday mornings from around 10:15 AM till around 1 PM.
(We try to play on the first and last Sunday of each month, but sometimes we move a performance to a different Sunday).
We play a lively mix of traditional Italian and European melodies, including several mazurkas (a sort of uptempo waltz popular in the late 1800's).​​​​​​
Please join us for music and great coffee on one of these Sunday mornings at:
601 Vallejo St. (corner of Grant Ave)
San Francisco, CA 94133
(415) 392-6739
(The caffe is open Fri-Sat 6:30 a.m. to 11:00 p.m., and Sun-Thu 6:30 a.m. to 10:00 p.m.)
New: click here to subscribe to our mailing list for last minute schedule changes